Faculty looking for funding have multiple resources available, internally and externally. Please refer to the resources provided for more information.
Faculty Funding Through the CSU
Through funding from the California State University (CSU) Chancellor's Office and each individual CSU campus, CSU Council on Ocean Affairs, Science & Technology (COAST) provides support to faculty members with the goal of facilitating and promoting cutting-edge research and professional development.
Office of Research and Sponsored Programs 
The Office of Research & Sponsored Programs (ORSP) serves the SF State community to help create a campus environment that is conducive to the research enterprise in the broadest sense. The office provides leadership, information, direction and technical assistance to faculty engaged in externally funded research, instruction, community service and other scholarly activity. In accomplishing this mission, ORSP ensures accountability, compliance and stewardship for sponsored programs as directed by the values of the office and by all applicable Federal, State, and University policies, procedures and regulations.
University Development 
The Office of Corporate and Foundation Relations (CFR) facilitates and strengthens relations with companies and foundations to advance the University's and our campus partners' missions. Please contact Stefan Amrine, Senior Director of Corporate and Foundation Relations, at samrine@sfsu.edu for more information about partnering with CFR.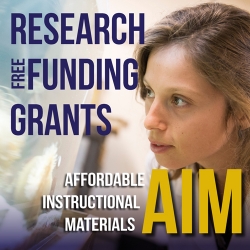 Affordable Learning — AIM Individual Faculty Grants 
Affordable Instructional Materials (AIM) is SF State's approach to reducing the cost of learning to students by focusing on adopting lower cost — even free — instructional materials. Grants are awarded to faculty who adopt, adapt and author (AAA), OER resources for free or low-cost materials. Open Educational Resources (OER) are another great way to reduce costs for students and make SF State courses more equitable.
Call to Service Initiative Grants
Call to Service grants offered through the Institute for Civic and Community Engagement (ICCE) supports SF State faculty and staff in providing service-learning, community and civic engagement opportunities to students and in disseminating service-learning knowledge, research or findings.
Office of Research and Sponsored Programs (ORSP)
ORSP offers a variety of resources for identifying sponsorship for projects.
San Francisco State University Foundation, Inc.
The San Francisco State University Foundation (SF State Foundation) is San Francisco State University's newest auxiliary organization dedicated solely to philanthropy. The SF State Foundation encourages the solicitation and acceptance of private gifts, trusts and bequests that will help the Foundation in the furtherance of its mission to foster private financial support for SF State. It directly manages the University's endowment — focusing on determining acceptable risks in the portfolio, maximizing investment returns, minimizing investment expenses and improving endowment reporting and stewardship.
University Corporation, San Francisco State
The purpose of the University Corporation (UCorp) is to promote, assist and enhance the educational mission of SF State through Educational Projects, University Research and Development Projects and Community Outreach. The University Corporation, SF State, administers projects and funds attracted from outside sponsors. UCorp provides services to SF State in administration, legal, personnel, payroll, accounting, fiscal reporting, auditing, investment, insurance, lease writing, purchasing, equipment maintenance and other services for sponsored projects and research.
University Development
The Office of University Development is responsible for helping to build a culture of philanthropy and support for SF State among alumni, parents, foundations, corporations and other friends in the community. Our primary objective is to secure funding for University identified priorities to advance SF State's academic, research and public service missions.
Stipends for Professional Development Opportunities
Tenure/tenure track faculty may apply to their departments for Professional Development Leave Without Pay Stipends. The intention is that stipends will be revenue-neutral as determined by departments in achieving their academic mission. The stipends, which are funded entirely by departments and their respective deans are based partially on the cost of faculty replacement by lecturers. Stipends are provided to partially offset the financial impact of a reduction in time base for faculty pursuing projects in scholarship, research, creative work, teaching, curricular design, community service or other areas related to individual or departmental professional interests or needs.
Professional Development Leave Without Pay Stipends are consistent with all professional development leaves granted by the University. Faculty will receive all benefits and service-years credit.
Guidelines:
Stipends are awarded in fixed amounts according to rank.
The awarding of stipends will be to support faculty professional development in support of departmental needs.
The PD/LWOP Stipend in any one semester will not exceed .40 FTEF for full-time tenure-track faculty.
Stipends can be awarded for not more than two semesters in two successive academic years.
Recommended Procedure Steps:
The requests for stipends are initiated by the faculty.
As part of the process of applying for a stipend, faculty must first apply for a Professional Leave Without Pay through the procedure of the University as set forth in the Faculty Manual, p.26-28 and Article 22 of the Collective Bargaining Agreement.
The college Dean, delegated the final level of approval, makes the final decision and notifies the director/chair and the faculty member of the award of the PD/LWOP Stipend.
The department/college prepares an honorarium form drawing funds from their account.
A copy of the completed honorarium is attached to the professional leave without pay form.